The last two and a half days were like a marathon of sorts. Something that I have been able to avoid so far by being very clever, or trying to. I avoid having simultaneous access to books in a series because I tend to go slightly bonkers. In the kindle, I follow the order of borrowing (in the unlimited membership) and at the library I only request the next book once I am done with the first and therefore will only be picked up at least a week after.
But last week after a few good light books, I came across two books of a series on NetGalley and a third on Edelweiss and following my worst instincts(ever) I put in a request for all of them hoping against hope that the approvals will not turn up too soon. They did come through within the next day or so. A normal person may ask why that would be a big deal. I am hopeful someone in the book lovers community would know what that actually implies. Despite not being used to reading back to back ebooks, I did just that.The result was a few hours of weeping, a couple of laughs and a very enjoyable deep dive into the series.
The first book :

Summer at the Comfort Food Cafe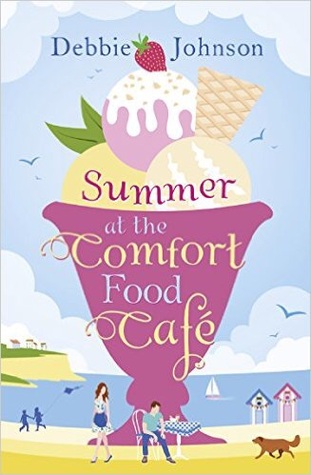 This book is about Laura and her kids and an introduction to the wacky world where there exists a cafe meant to cater to your whimsical life needs. The Comfort Food Cafe lives up to its name and exists to provide solace and a shoulder to cry on and anything else to prop anyone with an emotional burden to bear. Laura is only thirty-five and has been a widow for two years, she has teenage children (married very young, that part of the story was the quaintest) and they are all still living in auto-mode. She applies for a temporary position at the cafe and hauls her family to live on the Dorset Coast. It is summer season and there are enough tourists and other unforeseen scenarios which will keep Laura on her toes and her hair frazzled. It lives up to its genre with its happily ever after (with more to come). It is about community and family beyond blood and the resilience of people if they just have the right environment. There are a few sarcastic quips thrown in for comic effect as well as people who are weird by themselves and need no further arsenal to make you laugh. I cried more than laughed with this one. I then began the next book almost immediately.
Book three: Coming Home to the Comfort Food Cafe
I skipped the second one because of two reasons
I was in a hurry and had the did not have the second one handy, only the third.
The second is not as highly rated as the other three on GoodReads and I therefore did not feel too guilty.
This third book of the series is about Zoe and Martha. Already a family with not much of a label. Their common link was Kate, mother of Martha and best friend for life of Zoe's. She is no more, and has left her daughter in Zoe's hands. Martha though is sixteen and therefore not willing to stay in those hands. Unable to figure out what to do with the chaos and sadness in their lives, Zoe finds cottages in the Rockery which by extension belongs to the owner of Comfort Food Cafe. Skittish by nature and long experience, Zoe is taken by surprise by the assortment of people in the area who are waiting to take the wounded and the sad into their midst and their hearts.They help them heal.
I did not pay too much attention to the blurb before I started this on, so was surprised pleasantly at the surprise entries.I would advise that for maximum emotional impact. I wept more for this than the last one because it was not just Zoe or Martha's collective sadness but the happy-sad tinge of everything that preceded it and their despair about the possible future.
Book four: Summer at the Comfort Food Cafe
By the time I reached this book, I have become familiar with the characters and their quirks. I would think it highly appropriate to have some kind of prior understanding of the people and their bonds before venturing into this one for the most effect. I did not cry for this book as I did for the other two I have read. Mostly because this was more funny. The issue in this book is slightly of a different tone than the ones in the previous two. The loss is not exactly of a person physically but mentally. In some ways, it might even be a harder situation to come to grips with.
This book is about pink haired Willow who has made fleeting appearances in the previous books. She is a person with a lot of love to give and is carrying the heavy burden of watching her mother's Alzheimer's sap away her essence. This is about how she gets a chance for a slight betterment of the situation (It is not a spoiler since the comfort food cafe exists to facilitate such minor miracles). The dialogues are more wacky and random in this book, and a working knowledge of popular books(and their cultures) would help understand the random conversations.
I have not mentioned that all books in the series come with a hero to match the ladies who are not exactly damsels in distress. That I would think goes without saying!
I am glad I got a chance to read this thanks to the publisher granting my requests. 🙂