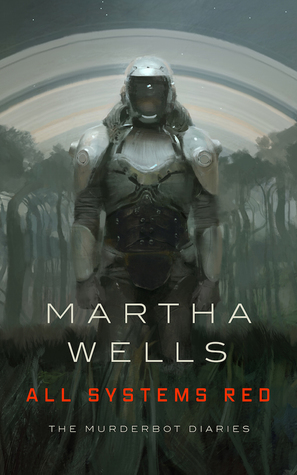 While doing window shopping for advance copies on NetGalley ( I do not have the freedom to actually request anything due to a self imposed ban) I saw the next two books of this series. I do not get a lot of chances to check out Sci-Fi books but the blurb intrigued me. It also happened that I was going to the library the same day and this was available on the shelf.
With fate conspiring in such obvious ways, I gave in and borrowed it. It is a tiny book by any standard but packs quite a punch. Our lead protagonist whose mind we have the privilege of eavesdropping, is a self named 'MurderBot' officially known as a SecUnit or security unit. This is a world where the humans are significantly more advanced in their scientific enquiries and this particular tale is of a mission on another planet. On this mission things go wrong, and there is only a small margin of safety and the chance that they will all survive is minimal. The narration is self deprecatingly funny which is surprising since that is unexpected from 'something' created by humans for a specific purpose. It was a fun and light read while simultaneously being action packed and interesting.
If and when I get a chance I will surely be reading the next books in the series.
P.S: If you have not already checked it out, do see my #FlashBackFriday- May 2017 post.