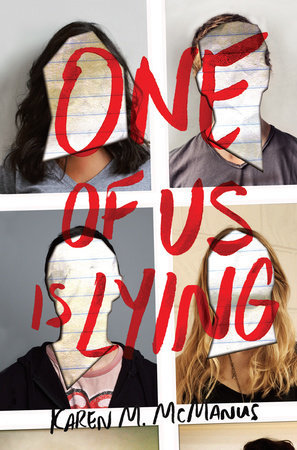 There was a time I saw this book everywhere! People were talking about it, comparing it to a more complicated version of the movie The Breakfast Club. There are references made during the book itself. The glowing reviews and the blurb pushed it on to my to-read queue.
I found out quite by accident last week that my library had finally acquired a copy of the book and I went ahead ( reserved and collected it) and read it before all the others waiting on my shelf. This book has a very interesting premise, there are a group of students given detention under suspicious circumstances and then one of them ends up dead.The case's social media presence throws all of their lives into disarray as new revelations come to light every few days. We watch how they deal with these changes and with each other. All of these people are different from each other but the common problem gives them a foundation to base a future relationship.
The revelations are done in parts which helps with the reading experience. All the main characters are described well, and their in-depth character analysis and their interpersonal relationships make it a treat to read. Unsurprisingly enough, there is not much more I can say without revealing anything to people who plan to read it (for those who do not, change your mind and give it a shot) except that it was worth the wait and met my expectation.