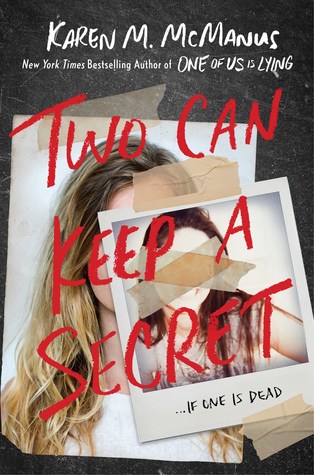 I last reviewed the book One of Us Is Lying by Karen M. McManus and enjoyed the book. I was lucky to be sent a pre approved widget on NetGalley by Penguin Random House and I jumped at the chance to read an advance copy (I seem to be jumping a lot lately, but what can I do, this year is off to a great start!). This in no way had an effect on my review, whatever I say next is all due to my reading of the book.
I read this book in one day, in about two separate sittings. It is not a small book but the writing flows effortlessly and the two main people we have the freedom to listen to the thoughts of are pretty interesting. I enjoyed this book even more than I did the last book by the author. The only thing is, even though the children in the book are in their late teens (or maybe because they are) I wonder if the target age of the book should be a little older, that may just be me.
The story is of a town which is to be a sort of refuge for a pair of twins who have never been there before. Their mother has kept them away and in the dark about most of her history. Ellery is a crime buff feeding off of the thoughts that she has built due to her perusal of true crime and the fact they have something unsolved in their own history.Malcolm has been in limbo since his brother was implicated but never officially named culprit in another case. This is an ominous situation made worse with a lot more than just one death. There is an escalation in events and because innocent people seem to be getting dragged in to the fray, Ellery her twin and their new friends (each with their own baggage) start to follow what they see as clues. Some lead them astray while others strengthen their belief that they know what the solution might be. There are some fast paced moments and all is revealed in a very appropriate manner. I liked the effect of the ending. Overall I recommend this book to those who read young adult fiction/thriller and mystery books because it is well worth the time that you would invest in it.
It is set to release on the 8th of this month.
Affiliate link to purchase the book: